Handmade Card with a Tropical Vibe
Who wouldn't love this handmade card with a tropical vibe? The Island Vibes Stamp Set is perfect for creating this type of card!
After the dreary winter we've had, I'm definitely ready for a little "tropical" in my life and this card fits the bill! This card was made with the Island Vibes Sale-A-Bration stamp set, which is available for free with a qualifying $50 order between now and February 28, 2022. I've had so much fun creating with all of the Sale-A-Bration Stamp Set (see them here) but I especially have enjoyed this stamp set.
I needed this card to come together quickly, so I grabbed the first bright Designer Paper I could find, and the Abstract Beauty paper was the first I found! (I do file my papers alphabetically, so it was fate!) The greens and pinks in this paper were perfect, so I just added a few other touches and the card was done!
By the way, this stamp set doesn't include any sentiments, so I paired it up with the Slim Sayings stamp set. The simplicity and size of the "happy for you" sentiment was absolutely perfect for this card!
You can find complete instructions on how to make this card below, along with a Tutorial you can download and print out. Enjoy!
Supplies Used on this Project
Project Measurements
Shaded Spruce 5-1/2" x 8-1/2", scored at 4-1/4"
Basic White:

4" x 5-1/4"
3-1/4" x 3-1/4"
3/4" x 4-1/4"

Magenta Madness: 3-1/4" x 3-1/4"
Abstract Beauty Paper: 4" x 5-1/4"
Project Instructions
1. Fold the Shaded Spruce cardstock in half at the score line and burnish well with your Bone Folder.
2. Adhere the 4" x 5-1/4" piece of Basic White cardstock inside the base card.
3. Adhere the Abstract Beauty paper to the base card.
4. Adhere the Magenta Madness cardstock at an angle onto the base card.
5. Using the Shaded Spruce ink pad, stamp the leaves 2 times, in different directions and overlapping in the middle. Adhere to the base card.
6. Stamp the sentiment onto the 3/4" strip of Basic White cardstock using Black Memento ink. Adhere the strip to base card so in the center where the leaves meet in the middle.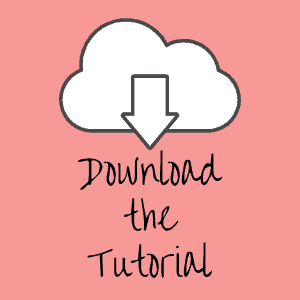 Save It!
Now it's your turn to give this card a try.  Order your supplies and plan a fun afternoon of papercrafting 🙂.
Thank you so much for stopping by!  I hope you feel inspired to create and that you also feel you have all the info you need to make this card with these instructions.  If you aren't sure about something, please comment below.  I'm here to help!