Cute Handmade Card with Cupcakes
How fun is this cute handmade card with cupcakes? With the glittery background and the adorable sentiment, this card is sure to make the recipient smile!
I love everything about this card – the colors, the Rainbow Glimmer Paper, the cupcakes and that sentiment! The perfect card for someone who tends to get hangry! 😄
To create this card, I used a slight variation of Card Sketch #15 in my Sketch Library – it made designing the card together so easy! Here's how I made this card:
Supplies Used on this Project
Project Measurements
Bermuda Bay: 5-1/2" x 8-1/2" scored at 4-1/4" and 3/4" x 3-1/2"
Rainbow Glimmer Paper: 3-1/4" x 5-1/2"
Basic White:

4" x 5-1/4"
1/2" x 3-1/2"
3" x 3"
Project Instructions
1. Fold the Bermuda Bay cardstock in half at the score line and burnish well with your Bone Folder.
2. Adhere the 4" x 5-1/4" piece of Basic White cardstock inside card base.
3. Using approximately 6" of the Metallic Mesh Ribbon, adhere to the back of the Glimmer Paper and adhere the paper to the base card.
4. Using the 1/2" strip of White paper, stamp the sentiment using Black Memento ink. Adhere to the 3/4" Bermuda Bay strip.
5. Adhere the sentiment strip in the center of the ribbon, lining up on the right side of card.
6. Using the 3" scrap of Basic White cardstock, stamp the cupcake image using Black Memento ink.
7. Color in the cupcake liner using the Smoky Slate Watercolor Pencil. Color the frosting of each cupcake in the colors of your choice.
8. Blend each of the waterpencil-colored areas with the Wink Of Stella Glitter Brush to blend the colors, cleaning the brush gently on your scratch paper between each color change.
9. Fussy cut out the cupcake image using your Paper Snip scissors; adhere to the card using Stampin' Dimensionals so that it slightly overlaps the sentiment strip.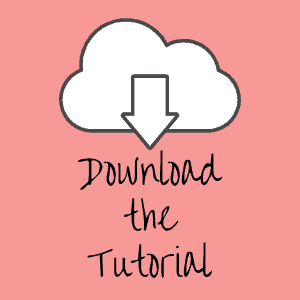 Pin This
Pin the image below to your board for all those handmade cards ideas you have saved so when you have an opportunity for a delicious cardmaking session you will be able to get right to the fun part!
Thanks for stopping by today, I hope you enjoyed this papercrafting tutorial. If you have a question or if I can help you with anything, please leave me a comment. I'd love to hear from you!