The new Stampin' Up! Planner Kit – Love Today – is perfect for those that like to plan, those that like to journal, and those that just want to keep a daily gratitude diary. Our all-inclusive Kit provides you with everything you need to create a totally customizable planner that will fit your needs.
My 5 favorite things about this Planner Kit:
This is one beautiful planner! The sturdy binder is 7-3/4″ x 8-3/4″ and is a gorgeous Navy Blue with gold foil polka dots.
The 2-ring binder lies totally flat for easy use, with gold metal corner accents to protect your binder. And the metal binding also lays flat so no more curled pages!
The dates are not printed so that you can start whenever you want. (And the Kit comes with complete color-printed instructions showing you exactly how to set it up.)
There is an affordable refillable Kit so that you can restock your Binder at any time.
There 3 adorable mini-sticky notes that coordinate with the Binder, as well as beautiful, high quality printed & Gold Foil stickers.
Pictures do not do this Planner justice – check out the video below to see a full description of this planner.
One of the things I love the most about this planner is the quality of the pages themselves. You can easily stamp images on these planner pages and not have to worry about the ink bleeding through to the other side. Perfect for those of you who like to get creative with your planners!
But what if you're just not into a paper planner?
As a busy Stampin' Up! Demonstrator & Leader, the one thing I just don't make time for is decorating my planner. (Although I think taking the time once a week to plan out your week and then get creative with decorating your Planner would be a pretty relaxing exercise – especially if it includes a glass of wine!)
Instead, I tend to organize myself using my smartphone – everything is synced and since I always have my phone with me, it's easily accessible.
Want to learn more on how I keep myself organized using Google Calendar and Trello? Visit my Organize Your Direct Sales Business Like a Boss here.
So while I fell in love with this Planner the first time I saw it, I really wasn't sure how I was going to use it. And then inspiration struck – the one thing I am horrible at is keeping organized and consistent with my Social Media – blogging, Facebook, Instagram, Pinterest – sometimes it feels so overwhelming!
And hence, my Love Today Social Media Planner was born! Want to see what I came up with? Check out how I created a simple but easy to use Social Media Planner!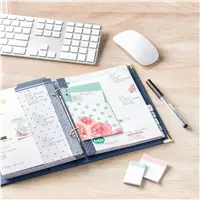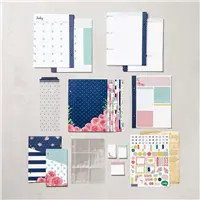 The new Stampin' Up! Planner Kit will help keep you on schedule and give a creative outlet too!